We would like to thank Olivier Blanchard for having kindly welcomed the challenge set out by our little textbook, for sale by July 2018: "Anti Blanchard Macroeconomics", by Emiliano Brancaccio with Andrea Califano (Edward Elgar Publishing, UK and US)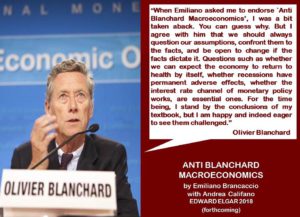 Institute for New Economic Thinking, 20 March 2018
The renowned economist reflects on the rise of neoclassical economics, the post-2008 surge of interest in non-mainstream, heterodox thought, and how young economists can remain independent in the face of biased evaluation systems
Interview by Emiliano Brancaccio and Nadia Garbellini
Economics is one of the fields where the contradictions and limitations of the academic research evaluation system in Italy is most clearly felt. This still fragile science—which in order to evolve requires openness, pluralism and appraisals of different approaches—is today conditioned in its development by academic evaluation and selection criteria, which are largely arbitrary and modelled on a single paradigm subject to increasing epistemological, theoretical, and empirical objections. Luigi Pasinetti, one of the world's leading exponents of critical economic thought, expresses his views on the subject in the following interview by Emiliano Brancaccio and Nadia Garbellini.

ROARS, 20 febbraio 2018
Il settore dell'Economia è tra quelli in cui più chiaramente si avvertono le contraddizioni e i limiti dei sistemi di valutazione della ricerca accademica in Italia. Una scienza economica ancora fragile, che per evolvere necessiterebbe di apertura, pluralismo e confronto tra i diversi approcci, è oggi condizionata nel suo sviluppo da criteri di valutazione e di selezione delle leve accademiche in larga misura arbitrari e schiacciati su un unico paradigma, benché questo sia da tempo sottoposto a obiezioni epistemologiche, teoriche ed empiriche. Il parere in materia di Luigi Pasinetti, tra i massimi esponenti mondiali del pensiero economico critico.
Intervista di Emiliano Brancaccio e Nadia Garbellini